Orchestral Compositions
-Human Talking 1.0 for Baroque Orchestra. To be premiered in Toronto 2024 by Tafelmusik
-Battalia a 10 for string orchestra
Chamber and vocal music
-Le Souffle de Catherine for flute, clarinet and video
-La Solitude de St-Amant, for counter-tenor, viola da gamba and loopers
-Voices of (S)Care, for SATB choir
– GAIA-solo, for soprano and string quartet
-GutFEELING-re-writing of B.Strozzi for period instrument (strings, lute, and trombone)
-Orfeo, re-writing of Monteverdi's Orfeo for voice, 2 viola da gamba and dancer
Film and Theatre
-FILM: Truth or Dare by Maja Classen
-Sound installation: Return of the King's Dautghers
-FILM:A Body like mine, documentary by M.Classen
-FILM: GAIA-Ein Cyborg Oper by KainKollektiv *top 10 best Production 2020 by NAchtkritik
-Theatre: Post Paradise: Shakespeare's Sturm. by Sputnik at Bremen Theatre
-Theatre: Aus Aktuell Anlass, live performance by Kainkollektiv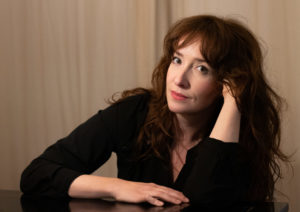 Vanessa has received numerous commissions as a composer. Most recently, by Musikfonds for a compositional research grant focusing on aleatoric music and the idea of the conductor as an improvisation tool in creating live music.
Vanessa's composition style brings a new visual aspect to contemporary music; often including gestures and some form of choreography, and breaking the classical stillness of the musicians.
She is currently working for a new work for Toronto's Tafelmusik Ensemble in Canada; Human Talking to be premiered in 2024.