Orchestre National d'Auvergne
Guest conductor with Orchestre National d'Auvergne
Concert symphonique
Maurice Jaubert, Intermèdes
Georges Delerue, Concertino pour trompette et cordes
Ennio Morricone, Esercizi for 10 strings
Georges Delerue, Récit et Choral (arrangement pour cordes de Manuel Doutrelant, création mondiale)
Nino Rota, Concerto per archi
BLACK EURYDICE
World Premiere – April 13th , 14th 2022, Berlin TAK-Theatre Aufbau Kreuzberg
A new theatre production from KainKollektiv. Composer and Conductor- Vanessa Chartrand-Rodrigue
BLACK EURYDICE / SCHWARZE EURYDIKE / EURYDICE NOIRE, kainkollektiv investigates the systematic exclusions that occurred with the implementation and emergence of European opera: the position of women and the contemporaneous onset of colonial history.
Tak- Berlin https://tak-berlin.de/spielplan
FFT Düsseldorf- https://www.fft-duesseldorf.de/schedule/black-eurydice-eng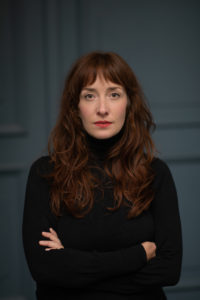 FLOW- OpusXX Orchestra
November 18th, 2021 : 20h00
Concert at Villa Elizabeth, Berlin
Conductor: Vanessa Chartrand-Rodrigue
Program
-VÖTN for Counter-tenor and Strings by Veronique Vaka, Featuring Michael Taylor
– Battalia a 10 ( on a theme by .Biber) by V.Chartrand-Rodrigue (world premiere)
-Falling Still for Violin and Strings by Emily Doolittle
-FLOWEN for String Orchestra by Veronique Vaka
-The Dark Island by Grace Williams (First performance since its premiere 1949)
Chamber Orchestra of
Cascais, Portugal
September 2021
Program
Haydn: Symphony No.74
Mozart: Oboe concerto K.314
Debussy: Prélude à l'après-midi d'au faune (arr.Schönberg)
Masterclass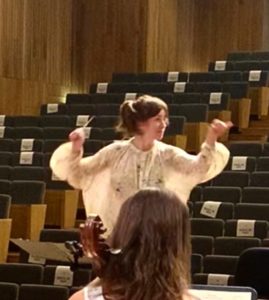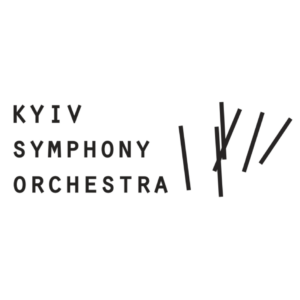 Kiev Symphony Orchestra
July 2021
Concert and Masterclass
Program:
Bartok The Miraculous Mandarin Suite
Debussy 1st Rhapsodie for Clarinet
Stravinsky The Firebird Suite (1919)
Debussy Prélude à l'après-midi d'un Faune
Jenufa
L. Janacek
Royal Opera House, London – March 2020
Assistant conductor to Vladimir Jurowski. Regie: Claus Guth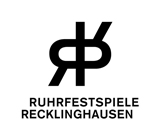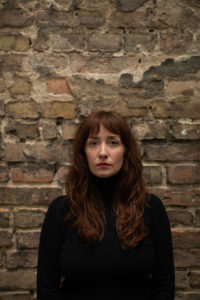 Mauer broadcast
World premiere from composer Lisa Bielawa for 2 doubles chorus and wind ensemble Conductor: Vanessa Chartrand-Rodrigue
Brandenburger Tor, Berlin Fall of the Wall Celebration 2019
GutFEELING
OpusXX Orchestra: a collage of Baroque and Contemporary works, on period instruments.
PAF Festival, Berlin May 2019
Conductor: Vanessa Chartrand-Rodrigue
Countertenor: Michael Taylor, Tenor: magnús hallur jónsson and dancer/ choreograph Andrea Kingston.
B. Strozzi, F. Caccini, Veronique Vaka, and Violeta Dinescu
ZeitGeist
Solist with Ensemble Phoenix16
MaerzMusik, Berlin May 2018
Brian Ferneyhough 'Time and Motion' for 16 singers and percussions. I.Xenakis ' Suite pour la Paix, and Nuits' .
Horos Meteoros
Dramatic Passage with Euripides and Aeschylus
by Jakob Ullmann
Documenta14, Megaron Concert Hall, Athens
Solist with Ensemble Phoenix16
A mini-opera created on the occasion of the centennial of the Gare du Nord railway station on the Swiss-German border in Basel. The project, which was developed around the station's history, brings to light its dark past during the Nazi regime, as well as the larger issues of persecution and borders connected to the station. For his composition Horos Meteoros, Ullmann chose to explore the concept of borders, inspired by Euripides and Aeschylus, in particular Aeschylus's The Suppliants.
I saw the world collapse and it was only a word
by Hassan Khan
Albertinum Museum, Dresden 2019
Komposition und Libretto: Hassan Khan
Aufgeführt von den Sänger*innen des SolistenEnsemble Phoenix16
Nataliya Bogdanova
Vanessa Chartrand-Rodrigue
Suzanne Fischer
Polly Ott
Eva Zwedberg
Mobiltelefon: Sonia Lescene
Carmen by G. Bizet
Berlin Opera Summer Academy
Assistant conductor, and French diction coach
Kirche Elizabeth, Berlin 2018
Musical Director: Peter Leonard
Staging: Gidon Sacks, Choreograph: Andrea. D. Kingston
ALLGEGENWART aus OMNIPRESENCE
document1 by Jace Clayton ( New York)
Julius Eastman Festschrift
Conductor and Singer- SAVVY, Berlin 2017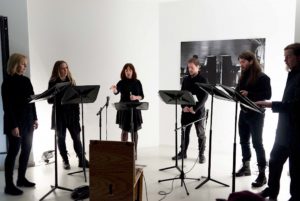 Les Contes d'Hoffmann
with Opera on Tap Berlin
Conductor, Assistant
Delphi theatre, Berlin 2016
Les Contes d'Hoffmann by Jacques Offenbach, Libretto by Jules Barbier Directed by Gidon Saks
Music Director: Tim Ribchester
Don Giovanni – W.A.Mozart
Assistant conductor
AllTags Oper Berlin 2015